Copyright © 2017 by Wayne Stegall
Created November 3, 2017. See Document History at end for details.
My Favorite Source Component

If the first goal of high fidelity is enjoyment of music, playing an instrument seems foremost.
I began this journey in 1984. Having been told to stop playing the piano and get a job, I took my mother's steel-string to the bedroom and worked with a book to learn to play with a pick. After doing this a while, I knocked out four teeth in an auto accident about April 1985. Then the inability to sing made flat picking a bore.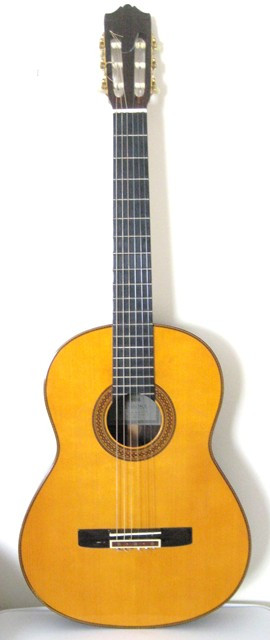 Perhaps the seed had been planted earlier. When I was about eight, dad invited a coworker to visit. When he came, he brought a handmade Spanish guitar and played some for us. Later when I was 19, a friend persuaded me of the virtues of classical guitars. After the accident – when a visit to the mall took me to a music store – I saw for sale two classical guitar methods: a Carcassi method book for $5 and an antique one for $1.50. Lacking for cash, I bought an antique book copyrighted 1901 and began my quest to learn Spanish guitar on the acoustic guitar I had at hand. After learning the basics, I lost interest in the antique book because it had too many waltzes and polkas and did not seem headed for the Spanish music promised. In place of the book, I started to improvise. By 1990, I had become skilled in improvisation to where I played several songs of my own composition.
In September of 1994, amid much personal turmoil, I went to the local music store and purchase the first guitar of my own – a Yamaha classical – and began improvising again. I continued in this way until a stunt by adversaries in 1996 caused me to stop playing for a long time.
1
About a year after moving away, I felt free to play again. At first, I only allowed 15 minutes a day of improvisation because I had a book to write as well. When time allowed I began to practice Classical guitar more diligently from a better method book I had put away for future use.
Eventually I took my guitar to the garage to make a bone saddle to replace its plastic one. Whether the improved sound was worth the renewed feeling that I had to give up my guitar is anybody's guess. I deduced that I had come into view of someone's espionage. Therefore when it came time to apply golpeadors (Flamenco tap plates) – and eventually a new bone nut – all had to proceed much more secretly.
1
See related article
Orbit
.
Document History
>November 3, 2017 Created.